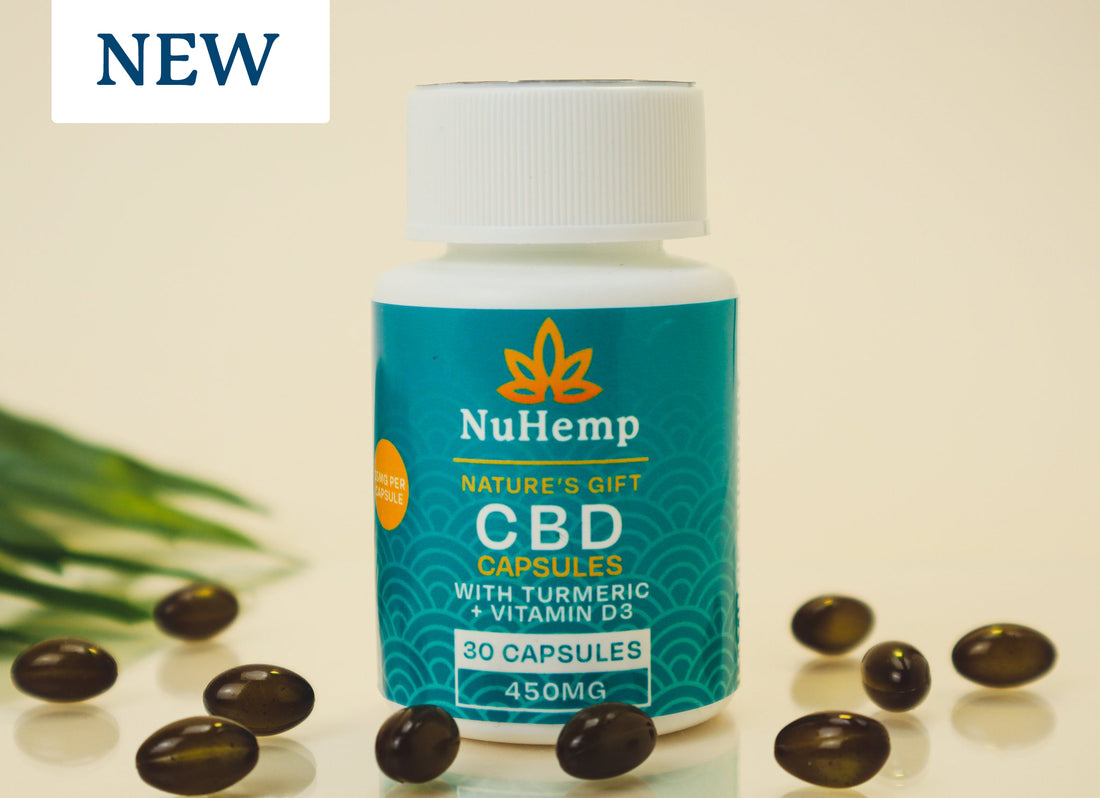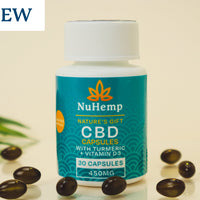 CBD Capsules UK - 450mg
15mg CBD per capsule
30 Capsules per bottle
500mg Turmeric
Vitamin D3 500iu
Hassle free CBD
Immune support
0% THC
Child proof bottle
Boost your wellness with our immune support CBD capsules. Enhanced with Turmeric and Vitamin D3!
If you love CBD oil then you're going to love our all new CBD capsules. 
Taking your perfect CBD dose has never been easier. NuHemp CBD capsules are expertly formulated to contain 15mg CBD per capsule, making them completely hassle free. Just take one capsule day and night to feel the best and most relaxed you. 
Advisory: Our CBD products including CBD capsules are food supplements and should not be used as a substitute for a varied and balance diet. Neither should they be used to replace medicine unless advised to by your GP.
Do not use if pregnant or breastfeeding. If you take regular medication, please consult with your GP before using CBD. The FSA advises to not exceed more than 70mg CBD per day.
Nuhemp gummies
This is my forth or fifth order. As always theres note saying thank you which is nice to have. I can't fault them with orders well packed and delivered on time prices are decent products are best on market at moment that help my anxiety better than antidepressant tablets don't leave you feeling like zombie reason I keep coming back when discounts on offer.
This time I bought tablets to try when im on holiday see how they go.
Also bought lots more gummies sweets after iv been handing some out to work challenges who say they help keep them calm and can focused.
Capsules
Good product , But in my opinion, These capsules are very tiny , they can't be a lot in there Regarding the volume , Expensive for what they are , too early yet to see if they are working !!
Promoting a healthy sleep cycle.
CBD for sleep.
When you've tried everything to get a good night's sleep without success, it's time to give CBD capsules a go. Sleep is one of the main reasons people use CBD so hopefully it will help you too!
A simple and convenient alternative for those who prefer not to use CBD oil.
If you're struggling to dose correctly with your CBD oil, then CBD capsules are just for you! Just like CBD gummies, our CBD capsules are pre dosed so you know exactly how much CBD goodness you are consuming.
Why are nuhemp cbd capsules better than the rest?
Everyone says they have the best product, containing quality CBD that is lab tested and ethically sourced etc etc and so is ours - but why choose NuHemp CBD capsules? 
Well our CBD capsules have the added benefit of Turmeric and Vitamin D3 which are both known to have positive health benefits. So you get a real immune boost which your body needs to thrive!
Vitamin D3, known as the sunshine vitamin, plays a vital role in wellness and the body's natural immune response and in a place like the UK where sunshine is a rare sight, many of us require Vitamin D3 in a supplement form.
Enhancing our CBD capsules with Turmeric and Vitamin D3 helps to promote long term wellness and increased immunity against viruses, coughs and colds.
Got any questions?
Just like other forms of CBD, using CBD capsules is super easy (probably the easiest way of consuming CBD).  Once you know how much CBD you need, just swallow as many capsules as you need to reach that dose - bear in mind, each capsule contains 15mg of CBD.
It is generally recommend to take your CBD capsules after eating a meal as this can help improve the absorption of CBD but taking your CBD capsules without eating prior is absolutely fine. Having a glass of water nearby is also handy.
Yes you can and they compliment each other well. Just make sure to not exceed the FSA's recommendation of 70mg a day. 
When taking both CBD capsules and CBD oil, we'd recommend to start on a low dose and monitor how you feel before gradually increasing your dose.
No. They contain absolutely no THC so they will not cause any psychoactive effects or make you feel 'high'.
You don't need a prescription to buy CBD capsules in the UK. You only need to be of legal age to buy CBD products and these CBD products must have legal amounts of THC which all of NuHemp products do.
We can't guarantee that it won't so please approach with caution. When using any CBD products, they may cause you to fail a THC screening. This is because CBD can metabolise in such a way that it causes a false positive to be produced in a THC test. It's advised that you inform your tester that you are taking completely legal CBD products.
There are many ways to take CBD and as long as you're consuming CBD in one form or another then that's great. We wouldn't say that one is better than the other as it really comes down to personal preference. Although CBD oils are absorbed by the body much faster than CBD capsules so give it some time after taking your CBD capsule. 
If you are new to CBD, finding your right dose is essential to experience the full potential of CBD.
Determining your CBD dose requires a little trial and error and just like CBD oils, it's best to start low and gradually increase your dose. We recommend to start with 1 capsule a day and increase by 1 capsule every 5 days until you are happy with results. For an in depth CBD dose guide, click here.
If you know your CBD dose already, then just take as many CBD capsules as you need to achieve this, remember each capsule contains 15mg of CBD. 
If CBD capsules are working for you, you'll notice an improvement in your ailment and overall wellness. You'll also notice the effectiveness once you stop taking the CBD capsules. 
When you aren't using your NuHemp CBD capsules, make sure they are in their original child lock container and store them in a cool place away from direct sunlight. Please keep them out of reach of small children.
Enjoy all the wonders of CBD oil but without the taste.
CBD capsules are a simple and convenient way of enjoying the benefits of CBD, especially for those that prefer to not use CBD oil. Simply take your CBD capsule and go on about your day, confident in knowing that you're taking the exact same dose every time. 
Unlike CBD oil, CBD capsules are swallowed and absorbed into the bloodstream via the digestive process. This allows for the slow and gradual release of CBD throughout the day.  
back to top