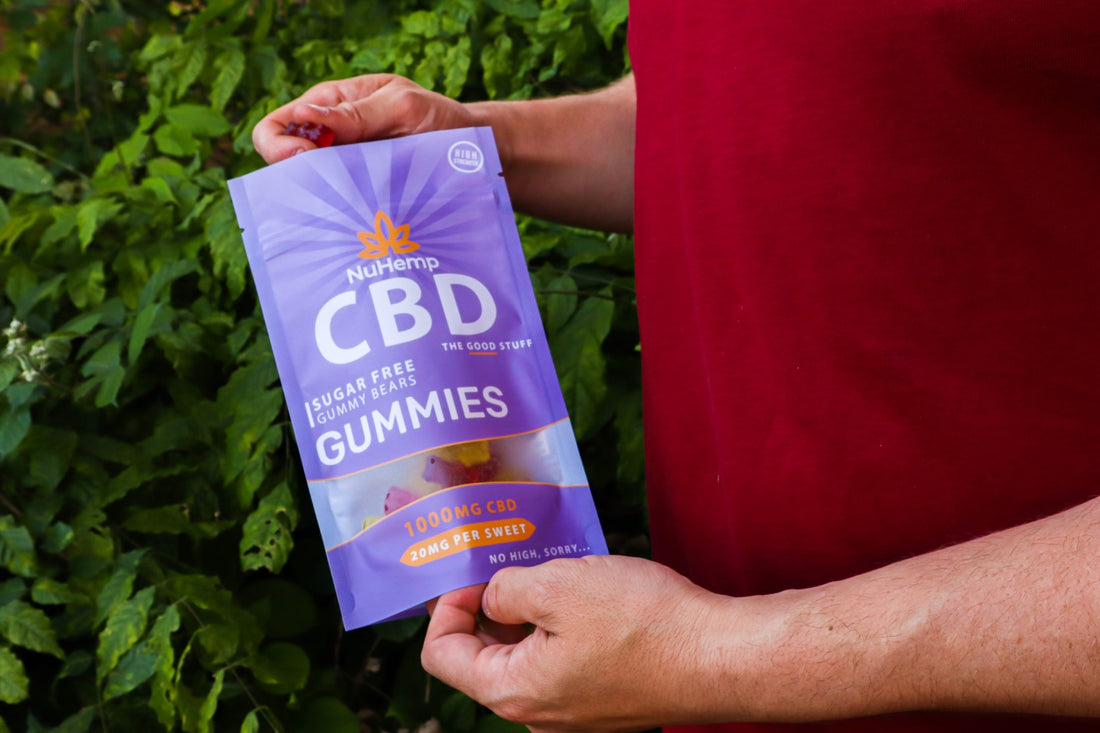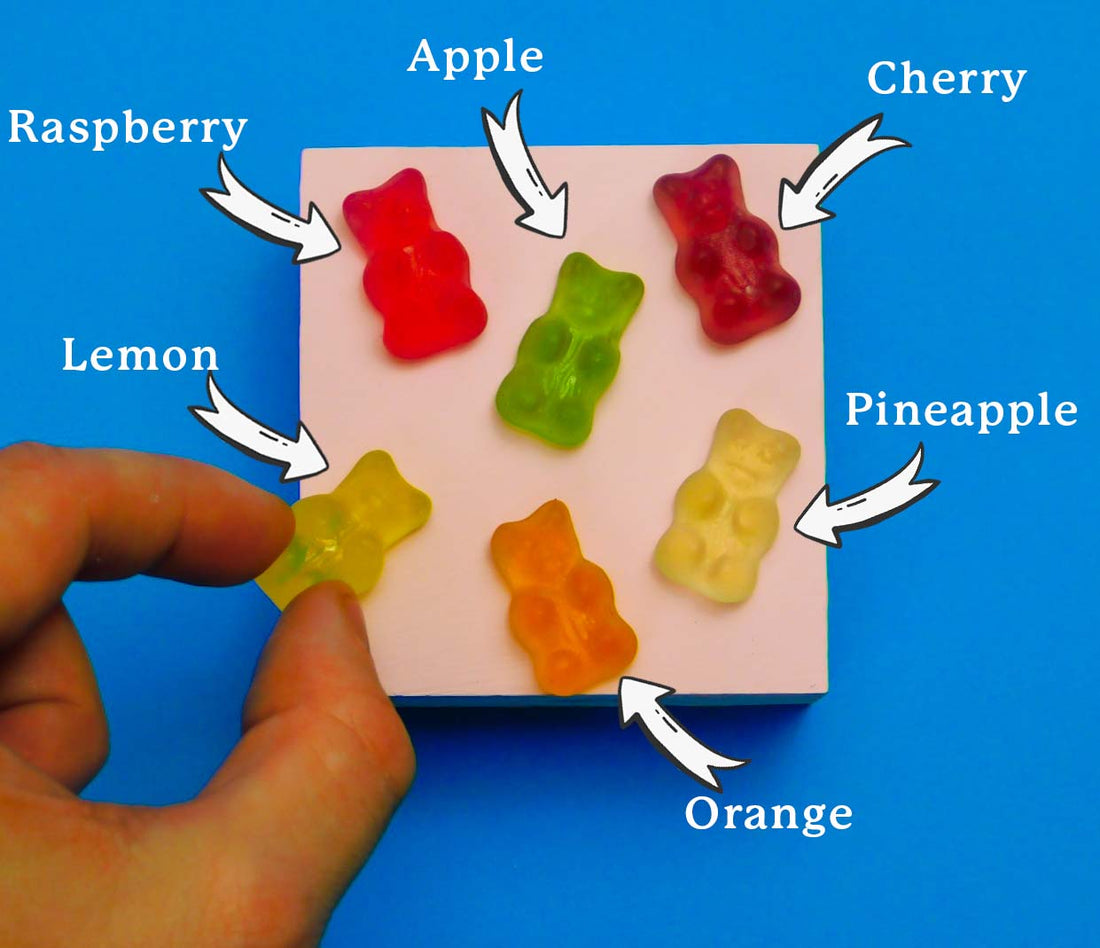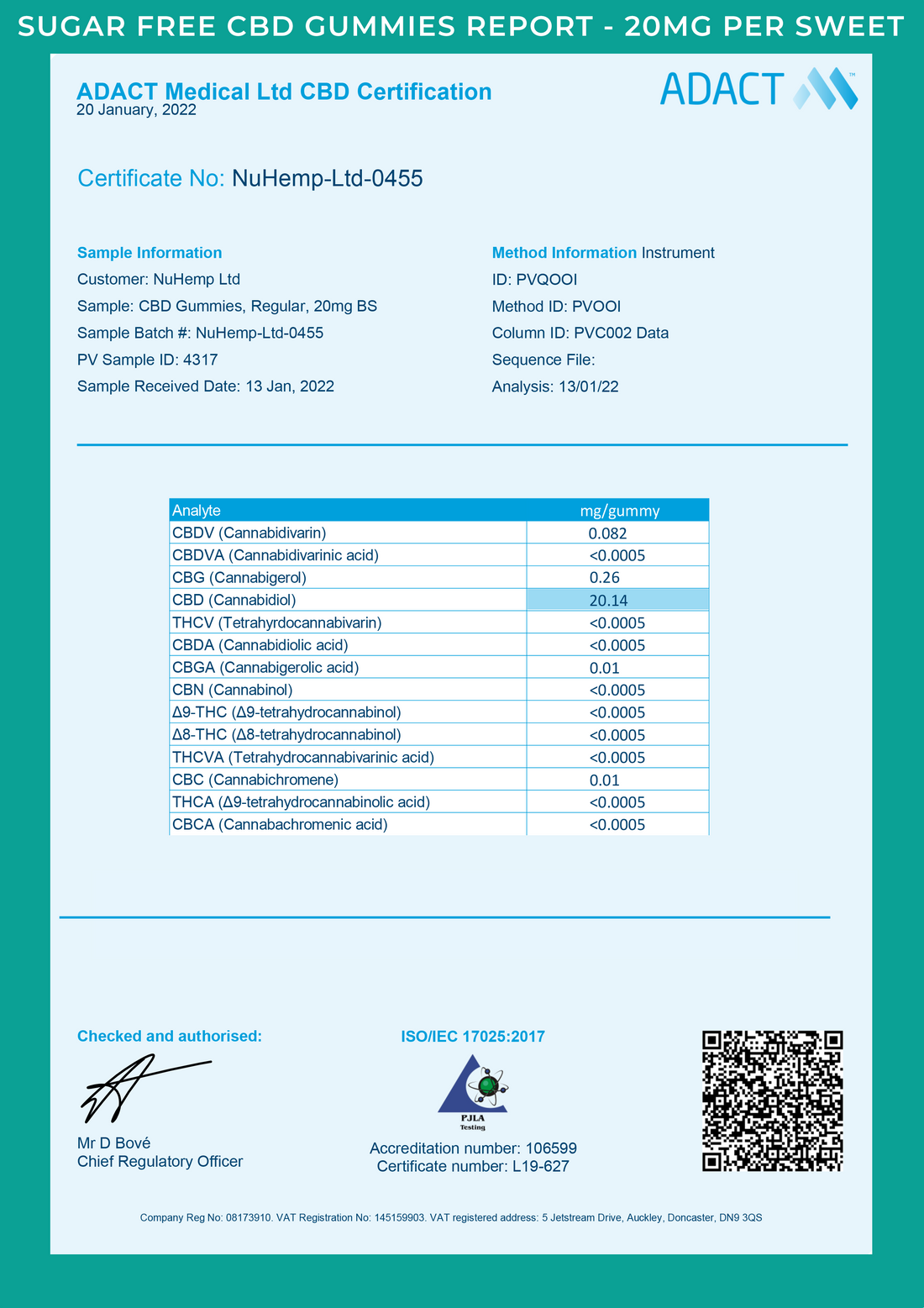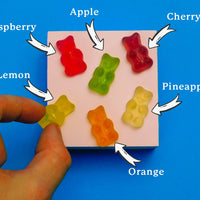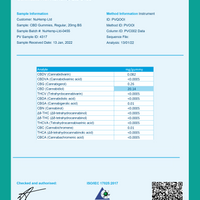 1000mg Sugar Free CBD Gummies
Sugar Free CBD Gummies UK - 1000MG
Sugar Free CBD Sweets
Gluten Free
Dairy Free
50 Sweets per bag, 1000mg CBD total
High strength 20mg CBD per sweet
A brand you can trust
Great for the whole family
Easy, manageable way of consuming CBD
NO THC, NO sugar
They're so good, you wouldn't believe they are sugar free CBD sweets!
1000mg Sugar Free CBD Gummies Benefits
1. Easy, precise usage
With our CBD gummies, you know you're getting exactly 20mg per gummy. This makes managing your CBD intake much easier.
2. Tasty!
By now we all know how great CBD is but some people don't like the taste of CBD oil or using capsules and that's were CBD gummies come in.  NuHemp CBD gummies are quick, convenient, tasty and give you that daily CBD boost.
3. Great top up
CBD gummies are a great way to top up your CBD routine, got a stressful day ahead? Pop a gummy or two :)
4. Value for money
At only 64p per 20mg dose, our sugar free CBD edibles are not only tasty and effective but they are affordable too.
5. User Friendly
CBD gummies are prefect for the whole family. There is no need to use pipettes or swallow pills. 
6. Sugar Free
And finally, they are sugar free! No worrying about sugar content over here. Enjoy CBD without the guilt.
Do you feel on edge with anxiety getting in the way of life? Are you looking for a natural way to tackle aches & pains? Finding yourself tossing and turning at night? 
Incorporating natural supplements such sugar free CBD gummies could be the natural solution your body has been craving for!
Maltitol syrup, steviol glycosides: water, pork gelatine, acid: E330; natural flavourings, Broad Spectrum Hemp Extract, plant and vegetable concentrates: spirulina, safflower, black carrot, grape; colours: E100, E160; vegetable oil: coconut; glazing agents: beeswax, carnauba wax.
All order placed before 4pm are sent out on the same day Monday-Friday.
We have a few delivery options available and on average 1st class shipping takes 1-2 working days to arrive and 2nd class shipping takes 3-4 working days to arrive.
Great
Tried these after reading reviews about them. I started taking half of one for the first few days I'm now taking over half & building my way up. I'm slowly sleeping better at least 3/4 solid hours. I'm going to start taking a whole one. I'd definitely recommend these & I know for certain I will be a regular customer. Very good service and excellent advice from the first question. I'm grateful for that.
Sugar free gummies
As a daily user of cbd for almost 4 years now I decided to start using nuhemp's gummies amd they're amazing,and these sugar free ones are even better as I don't consume sugar,one an hour before bed has m sleeping like a baby, highly recommended 👌
Love the New CBD gummies
I chose to try the sugar free gummies as i usually have the cherrys. These did not disapoint, no nasty after taste and taste great. Helped me sleep better. As always, great products and amazing customer service. Thumbs up from me😁
CBD gummies to the rescue!
Give Nature a Try
Are you here because you love CBD or have you heard all about it but don't want to dealing with CBD oil? Then these scrumptious CBD gummies are the next best thing you can buy.
The list of uses can seem endless but some of the main ones that our users experience are: relief from everyday stresses; a reduction in anxiousness; promoting a healthy sleep cycle; help in recovery from inflammation; and a sense of calm.
High Strength - 20mg CBD per sweet.
Ideal for your on the go CBD NEEDS
Easy, Convenient, Tasty!
Say goodbye to subpar, foul-tasting CBD gummies that other CBD brands find acceptable and hello to our mouth wateringly tasty sugar free CBD gummies. 
Unlike generic CBD brands, our CBD gummies are packed with flavour and are truly an enjoyable way of consuming CBD. We're proud to have produced proper tasty sugar free CBD sweets, gone are the days of not enjoying your self care routine.
Heard of the entourage effect? It's when many cannabinoids like CBD, CBG, CBN etc work together to produce a more effective CBD product. As our CBD gummies are made from broad spectrum CBD, they benefit from the entourage effect!
CBD GUmmies faq's
How much CBD you need varies from person to person. We recommend starting on 1-2 CBD gummies per day which is 20-40mg. The FSA advises to not exceed 70mg a day so you can manage your daily dose around that and find what works best for you. 
You can enjoy these delicious sugar free CBD sweets whenever you want but do bare in mind that the effects take longer when ingesting CBD this way. If you are looking to use CBD gummies for pain, then when you take them is irrelevant. If you are taking them for anxiety or sleep, then allow atleast an hour for CBD gummies to work their magic.
Absolutely not (sorry, to some) you will not experience a high. This is because our CBD gummies do not contain THC and THC is the compound that produces a high.
Our 1000mg Sugar Free CBD gummy bag contains 50 sweets and is made up of 6 delicious gummy bear flavours: Apple, Raspberry, Lemon, Orange, Pineapple and Cherry!
Because our lovely customers tell us that they are! NuHemp CBD sweets aren't like the boring old standard CBD sweets, ours are like the Haribo of CBD gummies.
We are massive sweet tooths here, so we don't accept sub par CBD sweets.
Keeping your endocannabinoid system topped up throughout the day is key to having a successful CBD journey and these CBD gummies are perfect for a quick and easy CBD top up - oh and they're delicious too!
After being manufactured, CBD gummies have a shelf life of around a year. We produce our gummies in small batches, so your sugar free CBD gummies will have plenty of time before they expire.
BUY 1000mg Sugar Free CBD GUmmies
Go on, treat yourself.
Whether you are new or an experienced CBD user, these sugar free CBD edibles are perfect for your everyday CBD needs. Accurately formulated to contain 20mg CBD per sweet, just eat a sweet or 2 and you're off to face the day or catch a good night's sleep.
Enjoy the wonders of CBD in a delicious sweet without worrying about sugar. Whatever the reason for you not wanting sugar, we've got you covered.
Available in a 500mg or 1000mg CBD gummy bag.
BACK TO TOP
Yes, absolutely. A CBD oil routine is recommended with CBD gummies as a top up but you can use both products on their own too. 
You can buy sugar free CBD gummies online and that's probably the best place to find them. By buying CBD gummies online, you get access to hassle free payment options, easy ordering options and the best customer support out there. 
We have no THC in our CBD gummies. This is because our CBD gummies are made from broad spectrum CBD and this contains zero THC.
Whilst they look delicious and tempting for a child, please keep them out of their reach. CBD sweets are meant for adult use only unless prescribed by a doctor.
There is no age limit with CBD. Everyone can enjoy the wonders of CBD. So if you have a sweet tooth or don't like CBD oils, then we recommend to give our delicious CBD sweets a go.
Research shows that humans can easily tolerate up to 1,500mg of CBD - that's alot of CBD. Some people may experience dry mouth or loss of appetite. Overall, CBD is very safe to consume.
Our CBD gummies contain no THC so in theory, you shouldn't fail a drugs test that is searching for THC but we can never guarantee or be held liable for a failed test. If you are concerned about failing a drug test, we highly suggest that you speak with your tester to explain that you are taking legal CBD products.
Should be taken as part of a varied diet and healthy lifestyle. Please consult your doctor before starting any food supplement program to determine if right for your needs.
3rd Party Lab Reports: All of our lab reports can be found here. We use an independent lab to conduct our lab reports to insure the quality of our CBD products. Some companies use an internal lab to produce their lab reports which is like marking your own homework. We let others mark ours!
Disclaimer: Due to UK law, all NuHemp CBD products have a live Novel Food application in place which allows us to continue selling our CBD products in a compliant fashion.
*These statements have not been evaluated by the Food and Drugs Adminstration or the MHRA. This product is not intended to diagnose, treat, cure or prevent any disease.
back to top